Iguazu Falls You might have seen the photos, even read about it. You might have visited other great waterfalls before. But you probably still have no idea what to expect when you come face to face with the almighty Iguazu Falls, on the border of the Argentina province of Misiones and the Brazilian state [...]
Iguazu Falls
You might have seen the photos, even read about it. You might have visited other great waterfalls before. But you probably still have no idea what to expect when you come face to face with the almighty Iguazu Falls, on the border of the Argentina province of Misiones and the Brazilian state of Parana. Unlike over-hyped destinations that can leave you feeling disappointed, Iguazu Falls instantly turns even jaded travelers into a raving fan. Judging by the sheer number of visitors — more than one million a year — its pulling power is showing no sign of weakening.
"Unlike any other waterfall on earth"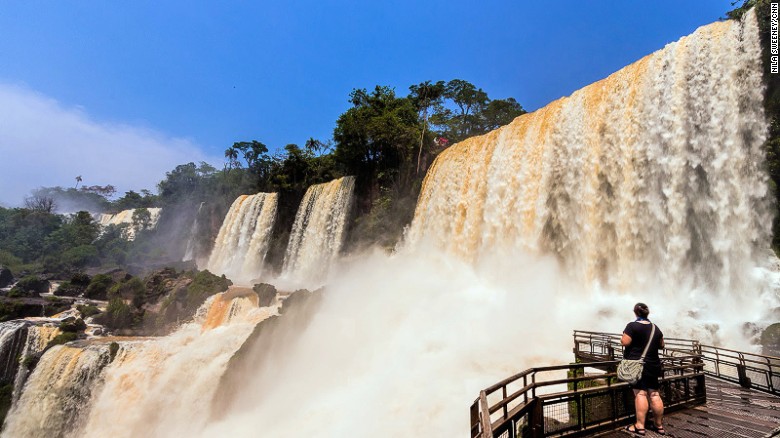 To describe the Iguazu Falls without gushing superlatives is a futile exercise.
With water cascades as far as the eye can see — some massive and powerful, some small and dainty — the Iguazu Falls are a shock to the system.
Even the late U.S. First Lady Eleanor Roosevelt was reportedly so impressed when she saw them that she purportedly said "Poor Niagara."
"Iguazu Falls always catches you by surprise," says Martin Ruffo, Intrepid Travel's regional product manager for Latin America. "They're truly a magnificent display of nature.
"Their size and scale are unlike any other waterfall on earth."
That's no exaggeration.
By any measure, Iguazu Falls is a monster.
It's made up of a system of 275 waterfalls or cataracts, with the exact number depending on the season.
It spans an area 2.7 kilometers wide.
The tallest of these waterfalls, called the Devil's Throat, drops by more than 80 meters into a milky abyss that creates a permanent cloud of mist.
To put that in perspective, Iguazu Falls is nearly twice as tall as Niagara Falls and rivaled only by South Africa's Victoria Falls, which is taller at 108 meters.
It's nearly three times as wide as Niagara Falls and significantly wider still than Victoria Falls.
The amount of water pouring from these falls to the Iguazu River is equally staggering.
On average, about 1,500 cubic meters of water flows every second.
Depending on the time of the year, the rate of water flow can be as much as 13,000 cubic meters per second — enough to fill five Olympic swimming pools — especially during the rainy months of November to March.
It's little surprise then that the river that the water flows into, as well as the waterfalls, are both named Iguazu, which literally means "big water" in native Guarani Indian language.
Endless superlatives
Straddling the border of Argentina and Brazil, Iguazu Falls became a UNESCO World Heritage Site in 1984.
In 2011, it was selected as one of the winners of the New Seven Wonders of Nature competition.
It's easy to see why it's piling up awards and accolades.
It's located within one of the few remaining inland rainforests in South America, the Atlantic rainforest, which has been wisely preserved by both Argentina and Brazil.
The lush, sub-tropical national parks surrounding it are teeming with wildlife. This is a haven for more than 2,000 plant species, about 400 bird species, 80 types of mammals and countless insects and invertebrate species.
According to local tour guide Francis Almeida Barros, it's not uncommon here to encounter colorful toucans, monkeys, and even jaguars on the way to the waterfalls.
This jungle experience, albeit briefly, sets Iguazu Falls apart from its more popular global rival.
Unlike Niagara Falls, which is surrounded by development such as casinos, a revolving restaurant, and Starbucks, Iguazu Falls is pure nature.
Devil's Throat: The largest water curtain
For many visitors, the first glimpse of Iguazu Falls is an emotional experience.
But it pales in comparison to getting up close to the falls.
The Argentinean side offers this experience with a walking route along with a series of rustic-looking boardwalks that take visitors close to the action.
With around two-thirds of the waterfalls located here, there's plenty of opportunities to get intimate with the falls and get soaked in the process.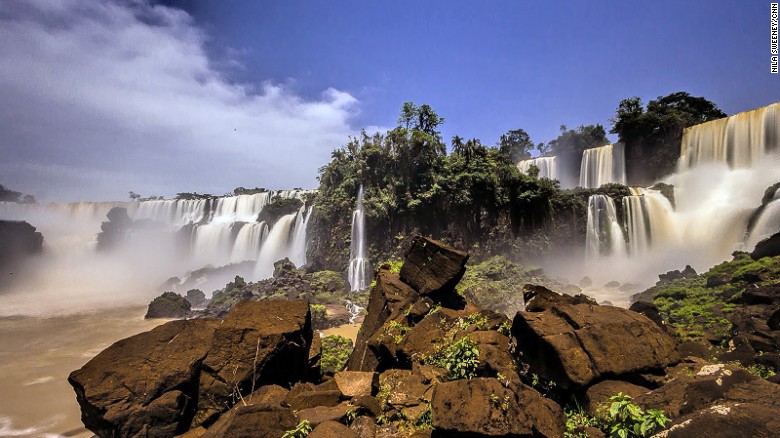 It's possible to explore the spectacular Devil's Throat waterfalls by speedboat.
Most people head straight to the main attraction, that being the Devil's Throat (Garganta del Diablo in Spanish). Shaped like a horseshoe, the Devil's Throat is the largest water curtain in the whole system and includes 14 waterfalls.
It's possible to take a speedboat to the falls, but be prepared to get really wet as these boats take you right under the falls.
You could easily spend the whole day exploring this side of the waterfalls without even noticing time passing.
After getting soaked, the Brazilian side of the falls offers a more sedate but equally gratifying view.
While you don't get as close to the falls, the Brazilian side offers incredible panoramic views that help deepen an appreciation for their grandeur.
GETTING THERE
Iguazu's remote location makes flying the most practical way of getting here.
From Buenos Aires, it's a 90-minute flight to Puerto Iguazu on the Argentinean side.
From Rio de Janeiro, it takes two hours to fly to the Brazilian town of Foz do Iguacu.
Most tourists stay in either town when visiting Iguazu Falls.
Both offer ample dining and hotel options for every type of traveler.
They're also relatively close to the falls — about 12 kilometers away.
Source: CNN Travel, Full Article
The trek to the lost Incan city of Choquequirao is one of the most difficult in Peru. From the town of Cachora, located 161km west of Cusco, it's an 18km walk to Capuliyoc Mountain, then down to Playa Rosalinas, where travellers camp for the night. Waking early, trekkers then have to cross the Apurímac River [...]
The trek to the lost Incan city of Choquequirao is one of the most difficult in Peru. From the town of Cachora, located 161km west of Cusco, it's an 18km walk to Capuliyoc Mountain, then down to Playa Rosalinas, where travellers camp for the night. Waking early, trekkers then have to cross the Apurímac River and traverse 8km of gruelling uphill switchbacks to reach the campsite close to the ruins. Then, the next morning, it's another 2km hike up to the ruins themselves, 3,100m above sea level. To get back? Well, it's the same way you came.
"I've had people in their 60s and 70s do it," said Juan Barrios. "[But] some people come out thinking that because it's only 28km from the drop off they can do it in a day. Six or seven days for the trek is best."
It makes sense, then, that Choquequirao draws only about 30 people a day during the high season (June through August). Compare that to the 2,500 people who arrive each day at the famed Incan city of Machu Picchu.
But for those who make the strenuous journey, the rewards are plentiful: lush wilderness, sweeping mountain views at every turn, and the chance to explore fascinating ancient ruins nearly alone.
Believed to be created around the same time as Machu Picchu, in 1445, Choquequirao is actually larger than its better-known, higher-trafficked counterpart. But very little has been written about Peru's other lost city and archaeologists are still uncovering new parts of the ruins, leaving life on the mountain relatively untrammelled. Only about 30% of Choquequirao has been restored.
But the crowds may not stay away for long. Officials estimate that construction on the first cable car to Choquequirao will be finished sometime in 2016, shortening the several-day trek to a 15-minute tram ride. As a result, the handful of hikers that currently make the journey each week could turn into 3,000 visitors per day.
And campsite owners are already seeing an influx of trekkers following the August 2014 completion of the Puente Rosalina bridge, which spans the Apurímac River. Now tour operators can easily cross the bridge on horseback, instead of using a hand pulley system to transport them across the river one by one or hiring another set of horses to be waiting on the other side.
Considering the bridge took six years to build, some locals believe that the construction of the cable car is still a ways off. In fact, the completion date has already been pushed back two times. "Too much fighting," said Julian Cobarruvias, the owner of the Santa Rosa Baja campsite. "Ego. One side wants this, another that."
But one thing is for certain: Choquequirao is spectacular now because of how untouched and remote it is. Even though the lost city was discovered (by Spanish explorer Juan Arias Díaz in 1710, and excavations began in the 1970s, the ruins still make you feel as though you're the first to find them. (In comparison, Machu Picchu was discovered in 1911, and excavations began the next year.)
As I sat in the stillness of the morning, looking out over the ruins and the Apurímac Gorge, surrounded by snow-capped mountains of Ampay, Panta and Quishuar, I was amazed, not just at the beauty in front of me, but also with the power of the Incan Empire. I admired the detail of Pachacutec's unfinished royal estate, which was divided into a lower and upper half. Everything was built with such precision: the water fountains made of large rocks, so they wouldn't wear away; the houses with double doors to announce the wealth and power of their inhabitants; the flat slabs underneath the windows to store food for refrigeration.
The attention to detail continued down the stairway off the main plaza, where each terrace was decorated with white rocks in the shape of a llama. Llamas were used to transporting food and supplies to the slaves, and the images were created to show the Inca's appreciation. Archaeologists have determined that slaves from the neighbouring villages, likely in the north, built Choquequirao, using vertical stonework and small stones (limestone and granite).
There will certainly come a time when Choquequirao will change; when cable cars are built, facilities are expanded and tourism is burgeoning. But for now, Choquequirao rewards the adventurous few who make it there with an intimate look at a lost city that almost seems never to have been found.
Practicalities
The ideal way to reach Choquequirao is with a guide. Adventure Life offers five-, six- and 12-day treks with groups of up to 12 people. Most tour companies provide nearly everything that trekkers need: tents, food, snacks, water, sleeping bags and walking sticks, and horses are used to help carry most bags.
Source: BBC Travel, Article